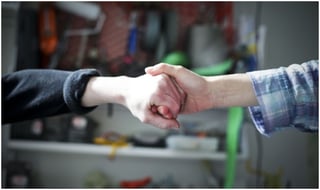 Did you know that more than half of all buying decisions are made based on emotion versus any other factor? What this means for businesses, including your property management firm, is that one of the greatest competitive advantage points is making that emotional connection with your clientele. In doing so, you'll not only improve the chances of landing a new customer, but also foster loyalty and longevity, which leads to word of mouth marketing for additional growth. Not sure how to leverage this for your company? Here are 4 strategies that will get you on the right track.
Become Customer-Centric
If you want to connect with your customers on a deeply personal level, you have to place them at the forefront of everything you do. Only then will you gain a true and complete understanding of their wants, needs, desires and pain points. By putting yourself in their shoes and modeling the operations of your property management company after them, you'll be able to reach them in a way that your competitors simply will not be able to match.
Make Empathy a Priority
In property management, there is a lot of interaction with customers. Part of the training process, as well as any incentives or internal reward/recognition programs should focus on helping your employees to develop and nurture empathy. This isn't always easy to do, but it's absolutely essential if you are to establish an emotional connection with your clientele. Everyone who works for your company – from head honcho to intern – should be able to put themselves into the shoes of every customer.
Listen, Listen and Listen Again
This is important, regardless of whether it's a prospect calling to inquire about your property management services or a long-standing customer who is complaining about an unpleasant experience. Listening to people is the most effective way to connect with them on a personal, emotional level. When people feel as though they're being heard, they'll naturally develop an appreciation for whoever is hearing them out. This can help win new business and repair problems to retain existing clientele.
Always Demonstrate Respect
Respect can be given in a lot of different ways. It can be speaking to your customers in a certain tone. It can be open, honest communication. It can also be always delivering on your promises. All of these things are effective in demonstrating to your clientele that you respect them, which goes a long way toward establishing an emotional connection with them. Furthermore, maintaining an internal culture and atmosphere of respect amongst your property management employees can also lead to better interactions with clientele, which will benefit your firm in the long run.
In a field as competitive as property management, finding something that truly sets your firm apart is essential to your future success. By focusing your efforts on making an emotional connection with your customers, there's a real good chance you'll stay a step ahead of the game and realize better growth and performance than others in the industry. Applying the four steps above will help get you there.
How do you bond with your customers on an emotional level? Please share your thoughts in the comment section below.
Take your customer service to the next level! Get your free copy of the Property Manager's Guide to Creating an Extraordinary Customer Experience.